Menelaion Hotel"
---

---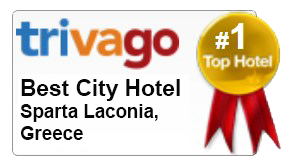 In the center of Sparta!
Menelaion hotel is a place with particular personality, a reference point for historic Sparta and Laconia..
ΤMenelaion hotel is located in the most central street of Sparta. The proximity of the city center, the shops and the museums, make its location unique! In Menelaion hotel, the high standard of service, the distinguishing luxury and the friendly staff will make your stay unforgettable. Enjoy your breakfast, coffee, lunch or drink throughout the day at the hotel lounge, the restaurant or next to the pool.
Menelaion Hotel events
Combining the neoclassical features of the building with the modern design, we have created a unique restaurant of distinguishing atmosphere and style..
---
Our aim is to offer unique events, making the most out of our minimal but luxurious environment, our perfect infrastructure, our excellent service and our experience.
---
The gastronomic experience you will have will be unforgettable.
---